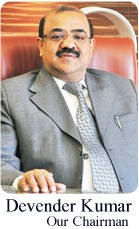 Far away from rote learning which has become the root of our traditional education system , DIS was set up on the above philosophy of Martin Luther King,Jr to breakaway from traditional setup and open doors to modern era in education. As per our vision we are committed to give our children an appropriate education which will help them to build brilliant careers and serve the nation to the best of their abilities.
To fulfill our mission we have built up our school with all modern facilities and latest curriculum design and transactional strategies. The teaching and learning offered at school caters well to multiple intelligence and learning styles as we understand that each child is born with special abilities and hence needs a special attention.
Delhi International School is a tribute from all of us to the children.
"The function of education is to teach one to think intensively and to think critically. Intelligence plus character - that is the goal of true education."
- Martin Luther King, Jr.